-
Accountant
ACCOUNTANT

---













Marapets Description: King Baspinar hired the Accountant to calculate the exact cost of rebuilding Vortex Park. She believes it will cost between 175,000,000,000MP and 250,000,000,000MP for a new and improved Vortex Park that will rival all of the other worlds in Marada. The Accountant rewards each of your pets for their Maths stats. There are many other Collections that you can complete for even more Rewards.

News Comments: There are currently prizes for 150 or more Maths Stats.

Link: https://www.marapets.com/accountant.php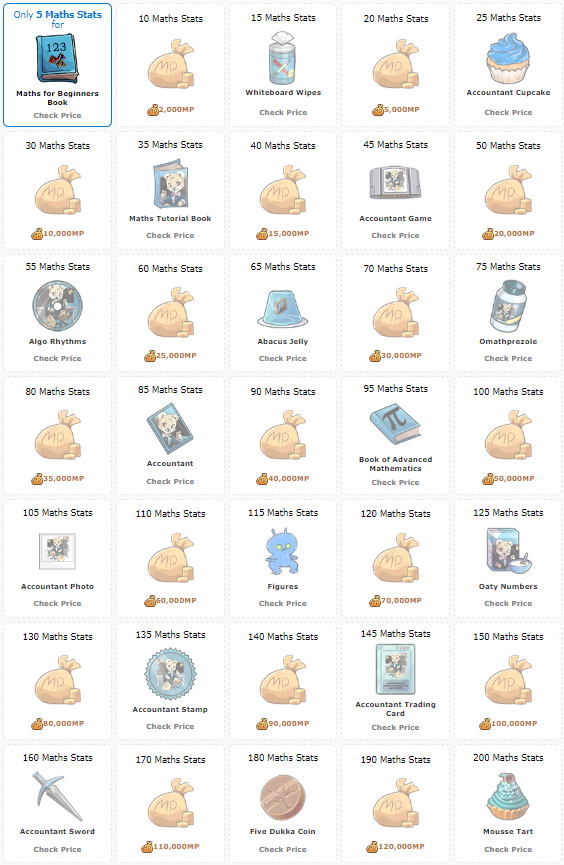 Prizes Per Level
Accountant Prizes
| | | |
| --- | --- | --- |
| LEVEL | LEVEL REQUIREMENT | LEVEL PRIZE |
| Level 1 | 5 Maths Stats | Maths for Beginners Book |
| Level 2 | 10 Maths Stats | 2,000MP |
| Level 3 | 15 Maths Stats | Whiteboard Wipes |
| Level 4 | 20 Maths Stats | 5,000MP |
| Level 5 | 25 Maths Stats | Accountant Cupcake |
| Level 6 | 30 Maths Stats | 10,000MP |
| Level 7 | 35 Maths Stats | Maths Tutorial Book |
| Level 8 | 40 Maths Stats | 15,000MP |
| Level 9 | 45 Maths Stats | Accountant Game |
| Level 10 | 50 Maths Stats | 20,000MP |
| Level 11 | 55 Maths Stats | Algo Rhythms |
| Level 12 | 60 Maths Stats | 25,000MP |
| Level 13 | 65 Maths Stats | Abacus Jelly |
| Level 14 | 70 Maths Stats | 30,000MP |
| Level 15 | 75 Maths Stats | Omathprezole |
| Level 16 | 80 Maths Stats | 35,000MP |
| Level 17 | 85 Maths Stats | Accountant |
| Level 18 | 90 Maths Stats | 40,000MP |
| Level 19 | 95 Maths Stats | Book of Advanced Mathematics |
| Level 20 | 100 Maths Stats | 50,000MP |
| Level 21 | 105 Maths Stats | Accountant Photo |
| Level 22 | 110 Maths Stats | 60,000MP |
| Level 23 | 115 Maths Stats | |
| Level 24 | 120 Maths Stats | 70,000MP |
| Level 25 | 125 Maths Stats | Oaty Numbers |
| Level 26 | 130 Maths Stats | 80,000MP |
| Level 27 | 135 Maths Stats | Accountant Stamp |
| Level 28 | 140 Maths Stats | 90,000MP |
| Level 29 | 145 Maths Stats | Accountant Trading Card |
| Level 30 | 150 Maths Stats | 100,000MP |
ACCOUNTANT TRADING CARD
| | |
| --- | --- |
| | The Accountant is also a Battle Arena enemy. When you place her Trading Card on your battle deck you can go directly to the Battle Arena to battle her. |
| | |
| --- | --- |
| Assistant's Specifications: | |

You get one from teaching your pet 145 Maths Stats.
Back to Battle Deck...


----

---
Thanks for visiting Marapedia. The Marapets.com content here is copyright ©Marapets.com used with permission; and belongs to Ian Smetham and Laimay Yan. Marapedia's last update April ©2012.
Community content is available under
CC-BY-SA
unless otherwise noted.