-
Birthday Party
BIRTHDAY PARTY

----




Marapets Description: Our new Birthday Party events have now started and will finish automatically on September 1st.

Each year we love to throw bigger and better parties at MaraPets. Unfortunately each year the residents of Marada also get one year older and find it increasingly difficult to enjoy the party. All of the excitement (and definitely not the repetitiveness) can be a bit too much for them! With so much of their time spent napping, complaining about how much Marada has changed and getting lost en route, time at the actual Birthday Party is limited. Invitations to the Birthday Party were sent out weeks ago but most partygoers didn't read it. Those that did have forgotten or don't want to arrive at the party alone.

As you browse and play the site as normal, a 'Birthday Gift' may show up in a box. When you find it, click it and you will earn Seconds to spend at the Birthday Party. If you're lucky, you may even find Account Upgrades Credit. Once you have an Invitation to the Birthday Party (see how to get this below), you can spend the time you have earned there, where MP and Party Bags will fall from the sky. Collect as many as you can before your seconds run out to win these prizes! 

The top 16 players who collect the most gifts will receive a Gladys Trading Card and 16,000,000MP! The next 414 players will win a Gladys Trading Card and either 1,000,016MP, 100,016MP, or 16,000MP. Visit any player who is currently Online Now and click the button at the top of their profile to invite them to the party. Each player is different - they could already be at the party, napping (or still completing their Easter Egg Hunt) but will give you either MP or a Pinata prize. Each player can only be invited once every 30 seconds. If you have already earned 60 Seconds or more from the Birthday Hunt, you may find a player who did actually read the RSVP and will give you a copy of their Party Invitation. You can then use your time to party and earn prizes!

We need your help inviting as many online players to the fun! Visit a user's profile and hit the 'Happy Birthday' button and they will be invited to the party. Each player is different - some won't party, some will and others will have the best time ever! The response of the character will depend on what prize you receive. You can only invite a player who is currently online and can only invite the same player once every day. You will receive MP or a Pinata as a prize. Hit said Pinata and a prize or two will fall out. As you browse and play the site as normal, a 'Birthday Gift' may show up in a box. When you find it, click it and you are guaranteed a prize! You can win a Gift Bag, MP, and if you're lucky, Account Upgrades Credit! 15 random players who find 100 or more Gifts will also randomly win a retired Party Costume.

Posting the Birthday Box image on profiles, siggies, etc is confusing to other players and, as usual, is not allowed. If you are asked to remove the image and do not do so, your account may be frozen until the end of the Birthday celebrations.
Oglue Lunch
Oglue Lunch

----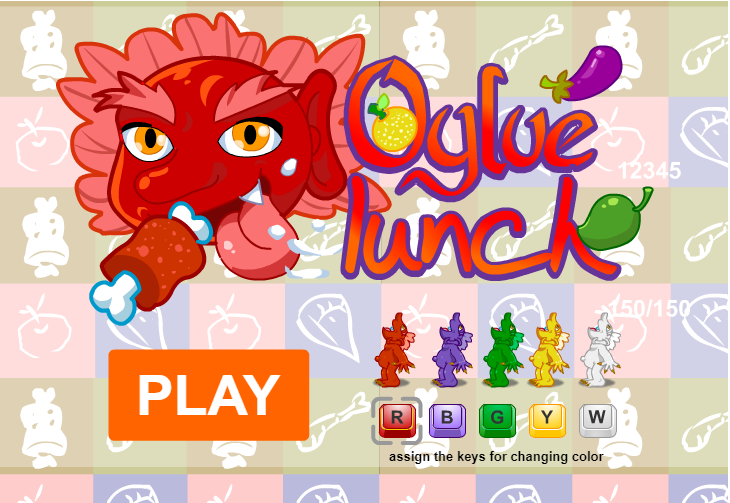 Marapets Description: Oglue Lunch was an Arcade-style Flash Games on Marapets.

Instructions: Move the Oglue with the mouse and change his color with the keyboard. The Oglue must be the same color as the food in order to eat it. The more food the Oglue eats, the higher you score.

MP Ratio: 1MP per 2 points scored

When did it all start?
On 15th August 2004 the site opened for this first time, many people visited from Maraqua and created accounts. Not many of those stayed and instead fled back to Neopets, but those who did stay were in for a big surprise. The site was always growing at furious speeds. From curious, occasional users to those who had decided to make this site their home, everyone was talking about Marapets! The site reached 300 million hits by the 17th of December 2005 which was quite an accomplishment, being only 17 months old at the time.----

Marapets reached its 1st birthday on the 15th of August. As we are now in the second year, we are making many important changes to the site. Over the next few weeks, Marapets will have a lot of its old features upgraded and the whole site will be improved. Be prepared for a lot of changes.
The Terms and Conditions to the site have changed. Please read them. 
All users over 13 will now have to verify their account with an email address in order to take advantage of certain parts of the site. There is also now a new Preferences page! 
Nine new site images have been added. These include the new Privacy Policy, Shop Search, and Terms and Conditions images. We will continue to improve and update outdated images over the next few weeks.
A new News system has been introduced. It will now be much easier to view old news. We have deleted all news from last year as it was filled with broken images and wrong information.
Marapets Milestones
This is basically a list of notable accomplishments from the site itself (please be advised that this is not related at all to activity releases, games or pets, but more like web analysis)

----
15th August 2004: Site opened
15th August 2005: One-year-old birthday | 148,111 members | 146,087,030 page views
9th October 2005: 200,000 members
17th December 2005: 300 million hits
20th August 2006: 751,719 members
15th October 2006: One million members
24th July 2007: Two million members
15th August 2007: 2,099,087 members
15th August 2014: Ten year old birthday | 5,416,696 members | 8,487,946,097 page views
15th August 2015: Celebration hiatus
12th August 2017: The first early celebration
---
---
Thanks for visiting Marapedia. The Marapets.com content here is copyright ©Marapets.com used with permission and belongs to Ian Smetham and Laimay Yan. ©2020 All rights reserved.
Community content is available under
CC-BY-SA
unless otherwise noted.