-
Daily Discount
DAILY DISCOUNT

----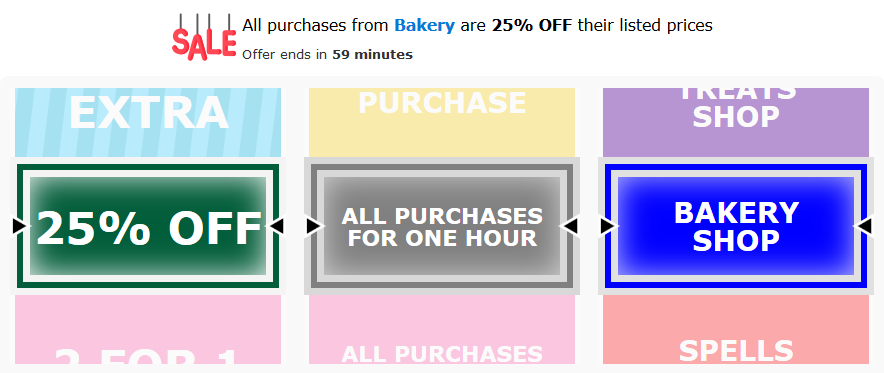 Marapets Description: The residents of Vortex Park love a bargain and many of its residents are extreme couponers. To help you bag countless freebies, discounts and two for one offers around Marada, you can spin the Daily Discount to receive a special promotion, just for you, to use today only. Spin to find out if you will receive a Daily Discount. You can win anything from 5% to 75% your next purchase at any shop in Marada (these are especially useful if you receive a promotion for the Antiques Shop and other expensive, high-end stores where even 10% off can save you several million MP!), 2 for 1 on your next purchase at special shops (includes Blood, Fertiliser, DNA, Capsule Machine and Time Machine Tokens from the Account Upgrades Shop), or 30-35% extra credit bonus on your next purchase of Account Upgrade Credit - the highest promotion that we ever have, usually only possible once a year for 72 hours of Black Friday. Discounts earned will be valid right away and unused discounts will expire.
You can visit Daily Discount for FREE once every 24 hours.

Link: https://www.marapets.com/discount.php

---
---
Thanks for visiting Marapedia. The Marapets.com content here is copyright ©Marapets.com used with permission; and belongs to Ian Smetham and Laimay Yan. Marapedia's last update April ©2012.
Community content is available under
CC-BY-SA
unless otherwise noted.