-
Duck or Dive
DUCK OR DIVE

----



Marapets Description: Heckles the Clown lives in Slater Park and loves all ducks. He has 19 ducks in his duck pond, each with an MP amount written underneath them of between 1MP and 25,000MP. You may occasionally find special ducks in his pond - even the Quack Mafia are known to hide from the police here! Find the jackpot duck and you'll win the MP Jackpot.

Heckles will randomly pick one of his ducks and shuffle his other 18. Every 5 picks you will be given an MP offer. You can then either keep picking ducks (Duck) or accept Heckles' offer (Dive). If you think Heckles' Duck has the highest MP you should 'Duck, Duck, Duck!'

You can play Duck or Dive for FREE once per day. Here is the Prize List.



Additional Comments: You will get an avatar if you 'Duck, Duck, Duck!'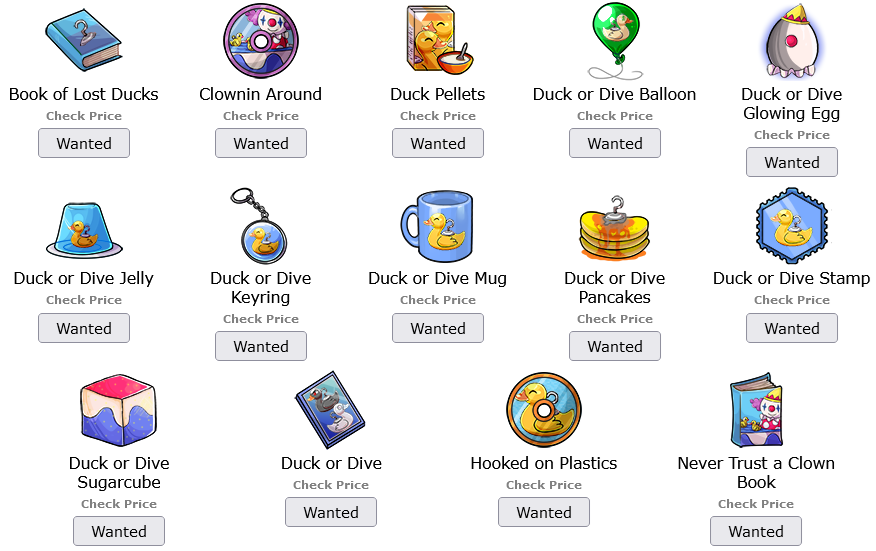 ---
---
Thanks for visiting Marapedia. The Marapets.com content here is copyright ©Marapets.com used with permission; and belongs to Ian Smetham and Laimay Yan. Marapedia's last update April ©2012.
Automation
Mara Community has a Duck or Dive Automator at their site, included in a program entitled MaraMagus.
Community content is available under
CC-BY-SA
unless otherwise noted.