-
Genie
GENIE

----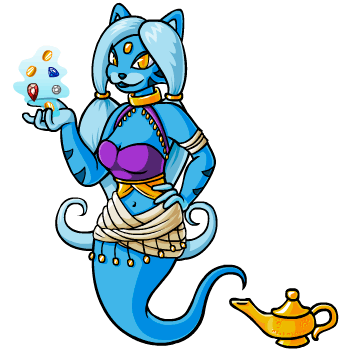 Marapets Description: One day, while Kamilah Traveller was searching for the lost Kamilah Pyramid, he stumbled across a shiny golden lamp. He was thousands of miles from civilisation and had run out of supplies. He was so thirsty he shook the lamp up and down hoping for some water and to his surprise, the magical Genie appeared to grant him three wishes.

His first wish was for food and water, his second wish was for a restricted Hump pet to help him in his travels and his third wish was to find the Kamilah Pyramid. The Genie granted all 3 wishes and he was so happy that he left Genie's Lamp in the town of the Kamilah Desert for all Maradans to use. Level 63 or higher players will be granted 4 wishes instead of 3.

You can visit once a day and she will grant your pet a FREE wish.

Additional Comments: Unless you have the Genie Giftbox, if you try to get Genie to grant another wish once she's granted each of your pets three wishes already, nothing will happen to them and the wish counter will reset. You will earn Magic stats if you're lucky!

Link: https://www.marapets.com/genie.php

GENIE TRADING CARD
| | |
| --- | --- |
| | Genie is also a Battle Arena enemy. When you place her Trading Card on your battle deck you can go directly to the Battle Arena to battle her. |
Genie's Specifications:

Base Health: 550
Base Damage: 665
Attacks: Glowing Lamp, Puff of Smoke
A rare prize from the Genie.
Click Here to Go Back to Trading Cards.

Avatar and Giftbox
| | |
| --- | --- |
| | You get this randomly from winning Essence from Genie. |
| | Use this item and you can visit the Genie twice a day forever. |
---
---
Thanks for visiting Marapedia. The Marapets.com content here is copyright ©Marapets.com used with permission and belongs to Ian Smetham and Laimay Yan. ©2020 All rights reserved.
Automation
[1] Mara Community has a Genie Automator at their site, included in a program entitled MaraMagus.