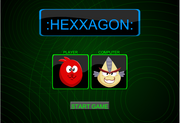 Hexxagon
is one of the 46
Flash Games
on
Marapets
.
Site Description: Click on a Xoi and then on a white space next to it to make it multiply, or a green space to make it jump. Moving a Xoi to the space next to a Yakubi will convert the Yakubi to a Xoi. Win by filling the board with more Xois than Yakubis.
Fun Fact: This game is based on a game in real life called Reversi (a.k.a. (to gamers) Othello).
MP Ratio: 2MP per 2 points scored

Bonus Prizes: You may randomly win one of these prizes when you play this game.
Game of the Day wins a prize each time!
Hexxagon Computer Plushie, Hexxagon Player Plushie, Hexxagon Sound Track, Glowing Hexxagon Egg, and Hexxagon DVD.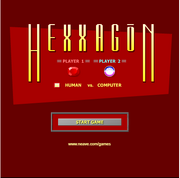 Community content is available under
CC-BY-SA
unless otherwise noted.