-
Pending Merge
| | |
| --- | --- |
| | Rusties At Work: This article is pending a merge into a bigger article. This is NOT a stub, so please learn to use the right templates! |
Job Center Main
JOB CENTRE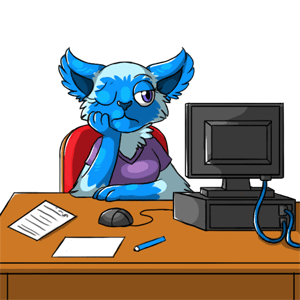 Marapets Description: Are you looking for work? The Job Centre is the place! We can help you find the right kind of job for each of your pets, full time or part-time, temporary or permanent. Below are all of the jobs that your pet can apply for. Each job has its own qualifications needed, with additional qualifications also needed later for promotion, which in turn will pay a higher income.
MP wages are paid once a day per pet. All jobs your pet has will be logged in Career History, showing the maximum level of promotion for each job. In the future, the higher this counter is, the more prizes you will be rewarded. Each pet will receive a Trophy for each career when they are promoted to level 15. You will also earn one of many Job Perks when a pet is promoted to level 20. You can top up your income at the Freelance Job Agency.
If for any reason your pet is regularly sick, neglected, or in prison, its performance at work is low. Please remember that low performance will lose your pet its job and you will not be able to collect wages.
Additional Comments: Perhaps some of the easiest jobs to get are the Banker or the Chef jobs, however they have some of the most mediocre pays. If you can, make sure to grab a job as Fireman, Policeman, Journalist or Actress as soon as your pet has the qualifications for it.

Link: http://www.marapets.com/jobs.php
Jobs
Avatar
| | |
| --- | --- |
| | You get this from clicking on any Job at the Job Centre that at least one of your pets is not qualified for. |
---
Thanks for visiting Marapedia. The Marapets.com content here is copyright ©Marapets.com used with permission and belongs to Ian Smetham and Laimay Yan. ©2020 All rights reserved.