-
King Baspinar XIII
King Baspinar XIII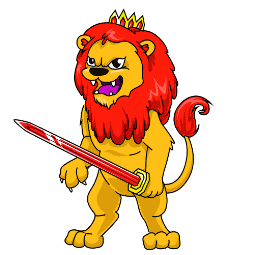 Marapets Description:
King Baspinar has been in control of Marada ever since the previous King was killed during the Mini Pet Island war of 2007. Since then he has been rewarding his Maradan citizens for their loyalty. Below is a list of prizes that he will give to you when your account reaches a certain age. If your account is already 12 months old, for example, you will get every prize up to 12 months. More prizes will be added all of the time too, so keep checking back on the news. Please note that multiple accounts are against the rules and we heavily log all activity you do on the site. Claiming prizes on multiple accounts is very easily caught as we can follow where these items go, who took them on each account and what other accounts they have logged into, as well as many other logs. Do not attempt to have multiple accounts because we will simply freeze every one of your accounts forever.
King Baspinar Loyalty Prizes
Account Age
Prize
5 days

5,000MP
7 days

One Dukka Coin
14 days

1 Level Stats for all of your Pets
30 days

7,500MP
60 days

10,000MP
90 days

15,000MP
120 days

Mordo Voodoo Doll
150 days

King Feliz
180 days

20,000MP
210 days

Moonlight Kidlets
240 days

25,000MP
270 days

40,000MP
300 days

A random Kidlet Potion
330 days

Sumo Feliz Trading Card
1 years

50,000MP
390 days

1 Strength, Defence & Speed Stats for all of your Pets
420 days

60,000MP
450 days

100,000MP
480 days

Loyal
510 days

Dentist Ticket
540 days

How to be Loyal
570 days

120,000MP
600 days

150,000MP
630 days

Book of Loyalty
660 days

A random piece of the Christmas Treasure Map
690 days

Poisonous Gauntlet
2 years

White Blood
750 days

20,000BP
780 days

Poisonous Dagger
810 days

Spaghetti Pizza
840 days

Octopus with Apple
870 days

Rainbow Swirl Ice Cream
900 days

200,000MP
930 days

Magic Booster
960 days

35,000RP
990 days

Strawberry Mountain Cake
1,020 days

5 Strength, Defence & Speed Stats for all of your Pets
1,050 days

Balloon Party
3 years

225,000MP
1,120 days

Sewage Pearl
1,150 days

30,000BP
1,180 days

Island Balloon
1,210 days

250,000MP
1,240 days

One Hundred Dukka Coin
1,270 days

Limited
1,300 days

275,000MP
1,330 days

Apple Pizza
1,360 days

Marapets Addiction
1,390 days

50,000RP
1,420 days

Bone Breaker
1,450 days

Loyalty Prizes Stamp
1,480 days

Hippie Wig
1,510 days

Steam Shield
1,540 days

Wedding Music
1,570 days

Flower Gumball
1,600 days

100 Olympic Points
1,630 days

Royal Wedding
1,660 days

Steam Sword
1,690 days

6 Strength, Defence & Speed Stats for all of your Pets
1,720 days

Royal Wedding Book
1,750 days

35,000BP
1,780 days

Royal Booster
1,810 days

7 Strength, Defence & Speed Stats for all of your Pets
1,840 days

King Baspinar Trading Card
1,870 days

King Baspinar Snow Globe
1,900 days

Carnivorous Plant
1,930 days

150 Olympic Points
1,960 days

Deep Fried Ice Cream
1,990 days

Magic Hand Book
2,020 days

300,000MP
2,050 days

Warm Bread
2,080 days

Legendary
2,110 days

75,000RP
2,140 days

Magic Tricks
2,170 days

Waffles
2,200 days

10 Strength, Defence & Speed Stats for all of your Pets
2,230 days

Rainbow Potato
2,260 days

Loyalty Music
2,290 days

King Baspinar Contact Lenses
2,320 days

60,000BP
2,350 days

12 Strength, Defence & Speed Stats for all of your Pets
2,380 days

Royal Waistcoat
2,410 days

Lace Neck Dress
2,440 days

325,000MP
2,470 days

Summer Wig
2,500 days

200 Olympic Points
2,530 days

Popo
2,560 days

15 Strength, Defence & Speed Stats for all of your Pets
2,590 days

King Baspinar Beach Ball
2,620 days

Gold Telescope
2,650 days

Carrot Cake
2,680 days

Marada Globe
2,710 days

80,000BP
2,740 days

Dog Collar
2,770 days

Autographed King Baspinar Trading Card
2,800 days

King Baspinar Key Chain
2,830 days

Tattered Scroll
2,870 days

85,000RP
2,900 days

Birthday Pancake
2,930 days

15 Strength, Defence & Speed Stats for all of your Pets
2,970 days

Blade Of Light
3,000 days

History of Baspinar Castle
3,030 days

250 Olympic Points
3,060 days

Bottle of Moat Water
3,090 days

Chocolate Chip Willa Cookie
3,120 days

350,000MP
3,150 days

King Baspinar Crown Stamp
3,180 days

Chibi Lorius Plushie
3,210 days

Sprinkled Purple Doughnut
9 years

100,000RP
3,270 days

Capsule Machine Token
3,300 days

Pawprint Oven Mitts
3,330 days

19 Strength, Defence & Speed Stats for all of your Pets
3,360 days

King Baspinar Gumball
3,390 days

375,000MP
3,420 days

Chibi Snookle Plushie
3,450 days

MP Plushie
3,480 days

100,000BP
3,510 days

Party Booster
3,540 days

400,000MP
3,570 days

22 Strength, Defence & Speed Stats for all of your Pets
10 years
Pinata Pieces
3,630 days

Decade Hat
3,660 days

Floral Marapop
3,690 days

500 Olympic Points
3,720 days

Armoured Glowing Egg
3,750 days

25 Strength, Defence & Speed Stats for all of your Pets
3,780 days

150,000BP
3,810 days

Coddle
3,840 days

Punk Jeans
3,870 days

500,000MP
3,900 days

Interesting Shirt
3,930 days

125,000RP
11 years

One Hundred And Fifty Dukka Coin
3,990 days

King Baspinar Potato Chips
4,020 days

Metalic Zipper Dress
4,050 days

600,000MP
4,080 days

Metalic Bandeau Top
4,110 days

800,000MP
4,140 days

Krikill Trading Card
4,170 days

1,000 Olympic Points
4,200 days

10 Coordination, Stamina & Balance Stats for all of your Pets
4,230 days

1,000,000MP
4,260 days

King Baspinar Video Game
4,290 days

175,000BP
12 years

12 Coordination, Stamina & Balance Stats for all of your Pets
4,350 days

150,000RP
4,380 days

King Baspinar Photo
4,410 days

1,250,000MP
4,440 days

Fake Royal Costume
4,470 days

King Baspinar Sugar Cube
4,500 days

Two Hundred Dukka Coin
4,530 days

1,500 Olympic Points
4,560 days

1,500,000MP
4,590 days

15 Coordination, Stamina & Balance Stats for all of your Pets
4,620 days

Tween
4,650 days

200,000BP
13 years

Capsule Machine Token
King Baspinar Loyalty Restricted Chat Prizes
Account

Age

Prize
1 month

When you have been playing Marapets for 1 month or more you will gain access to the Restricted Chat (1 month old) Forum. You will also stop earning MP from our Flash Games and start earning Score Points instead.
3 months
When you have been playing Marapets for 3 months or more you will gain access to the Restricted Chat (3 months old) Forum
6 months
When you have been playing Marapets for 6 months or more you will gain access to the Restricted Chat (6 months old) Forum
12 months

When you have been playing Marapets for 12 months or more you will gain access to the Restricted Chat (12 months old) Forum
More Prizes will be added soon!
Description (Minipet Island War) 2007: With the dark side's shops closed for all of the light siders, the ongoing war is causing huge economic problems for the light side, which relies on many of the goods on sale in places such as Ziranek and the goods smuggled from the Dukka Caves. To help give his troops the goods they need to fight this war, King Baspinar is giving out quests for items that are sold in the dark side. If you bring them to him, he will reward you with War Points. If the light side is to win this war and save Mini Pet Island, we need YOUR help!

Link: http://www.marapets.com/king.php
29th January 2007 - Minipet Island Land War - Part 3
The King is dead! Long live the new King!

We regret to inform you that our beloved King, the renowned Baspinar XII has perished. The castle was in mourning last night after genetic testing was completed by the Enpiah DNA laboratory proving that the remains that people have been fishing out of the Maradan river did in fact belong to our missing King Baspinar XII and not his great great multi-great grandfather Baspinar I as was formerly believed.

News has reached us that the new King, Baspinar XIII was immediately crowned during the night in an emergency ceremony at the castle. Not wanting to delay in these worrying times the normal public ceremonies and celebrations were set aside in order that Marada should once again have a King to protect us. As I'm sure every Maradan is aware, Baspinar XIII is the (rather unfortunately uglier) identical twin brother of our former handsome king the late Baspinar XII. Born just nineteen seconds later than his brother, he was natuarally next in line for the throne.

A proclamation has been issued this morning from our new King:

My fellow Maradans, I bring to you this morning the sad news of my brother's death. He is believed to have met his end at the hands of evil minions of the false Queen Eleka. This dreadful witch is sure to bring nothing but harm to our peaceful kingdom, and we do not recognise any claim by her to the Southern lands!

The question now remains as to what shall be done about this threat to Marada. As I believe in modern methods, and fairness for all our subjects, I have decided that the question of action against this traitorous interloper should be handled by the Maradan parliament rather than by myself. All Maradans are therefore called immediately to vote at the castle in a special referendum on the subject of war!

You can now vote in the Election inside the castle for what should happen next.

Trading Card
| | |
| --- | --- |
| King Baspinar's Specifications: | |
You can get the King's trading card by sticking around for 1,840 days on Marapets.
Click Here to Go Back to Trading Cards.

King Baspinar XII
King Baspinar XII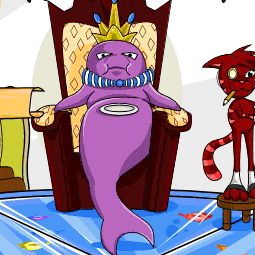 Custom Description: You really couldn't visit this king's page, just the inside of the castle. It is hard to understand why this king would suddenly go missing after Queen Eleka appeared. As you can see, the way the inside of the castle was setup, there was no way that this king would go missing just like that; with the Knutt Knight right next to him. The whole news story is fishy. Lets see, according to the news he was killed by Eleka Minions, yet he had no scratches, nor bites, as a matter of fact his body was sliced (with a cutting object perhaps sword like) and tossed into the Maradan River. His brother was crowned immediately. A few days later a "bogus" April Fools goofy story that Queen Eleka and Baspinar XIII were in love and got married.

I don't mean to be malicious but, huh, Eleka Minions have teeth and claws, there was no way they could perfectly slice the king. They could have cornered him, and somehow frighten him; but since there were no scratches on the body, they couldn't have murdered him. Let see, who has a sword... Queen Eleka has a very dull sword. It doesn't look like that thing can slice a watermelon, let alone slice a fish... Who else has a sword and was close to the king... Huh, the new King Baspinar XIII has a very sharp sword doesn't he? And wow have you seen how sharp the Knutt Knight's sword is? Wow, how sad! o_0 Maybe this was a plan of the Knutt Knight and King Baspinar XIII to frame Queen Eleka??? We will never know the real truth! :(



10th January 2007 Minipet Island Land War - Part 1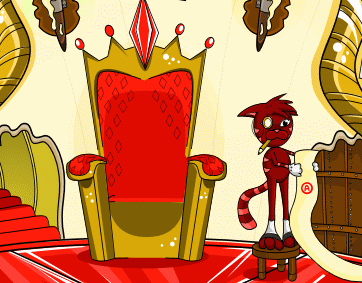 Naturally, mention of Queen Eleka concerned us greatly, and so several more newths were sent south from Dukka Caves to investigate the ruins of the Dark Castle. Unfortunately, although 24 hours have now passed, we have not heard back from them. We can only hope that they have run in terror and have not met some terrible fate. Of course by now I'm sure you are wondering why, if all this has been happening, there has not been some proclamation from our King, Baspinar XII, to reassure us of his protection. We regret to have to inform you that an hour ago we were contacted by a palace aide who told us that Baspinar has now been missing for over 12 hours! The castle and grounds have been searched thoroughly, and the search is now widening into Puchalla Village and the foothills of Biala. We would like to assure you that there really is no need for panic at this time. Although the King's location is not yet known, it is possible that there may still be some simple explanation for all of this. We'll keep you updated on any new events as they happen.

---
---