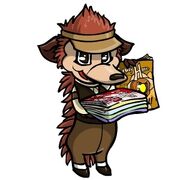 An
Echlin
is seen selling the latest magazines for each species of pet by his 
Magazine Stand
in
Lowlyhood
. You can buy a Magazine once every 60 minutes and you will receive one random magazine item for only 125
BP
. Every month, the magazines on sale are updated with the latest edition and the previous month are retired. You can read Magazines to your pet the same as a book item. Buy a
Magazine Stand Giftbox
item and you can buy magazines twice as often for life!
What are magazines?
Apart from that they have no use whatsoever, they can be sold in your shop or bought from another player's shop. The Moonlight Fairy rewards you for the number of magazines your pet has read.
How to get a magazine
You can only obtain a previous month's magazine by buying off another user or trading.