-
The Marapets Administration Team is entirely in charge of the management, moderation, and art of Marapets.

You should only maramail ONE Staff Member for help when it is an EMERGENCY; you should instead open a Support Ticket.

Begging, random SPAM and asking to become staff is NOT allowed; you will be punished for wasting their time
The current Marapets Administration Team (MAT):
Owners & Managers
Ian - Owner and creator
Shaggybear
Scarybear
tishalook
The Admins
Purrrfectprincess
Mordo
Hunnie
Stabbity
The Moderators
flameswarren
I_Like_Kidney_Beans
Nicky (formerly nicky76)
MommaCats
Custard
Terror
hideouslypretty
Die
Support
Artists
Nalkaria
DiamondDinosaur
Larkish
TaiZan
kimchee44 (former)
Former Members of Marapets Administration Team (MAT):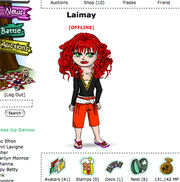 Owners & Managers
The Admins
Piano_Lady
chocolate241
Sinnful
The Moderators
fwidman
unicorn_misschief
pursnikitty
sleepysnickers
jennymoni
Nomesy
Roberti
Smellinor
Rottielover62
Support
Artists
---
Thanks for visiting Marapedia. The Marapets.com content here is copyright ©Marapets.com used with permission; and belongs to Ian Smetham and Laimay Yan. Marapedia's last update April ©2012.
Community content is available under
CC-BY-SA
unless otherwise noted.