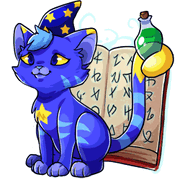 A potion is an item which you can use to transform your pet into another species and/or color. These are available from the Potions Shop and Account Upgrades. You can also find some in the Auctions and Item Trades.
Limited editon and restricted pet potions are the most expensive potions, so you may as well snipe (and bring a ton of MP) while you're at it. Basic colour potions for these pets (from Account Upgrades) were sold at one point in the Account Upgrades Shop from 18th July-20th August 2019 as a special, limited, flash sale for only £4 Account Upgrade Credit.
Items
There are over 970 potions, so we won't list them here, but for the most part if a pet is available in a colour there will probably be a potion for it.
Community content is available under
CC-BY-SA
unless otherwise noted.