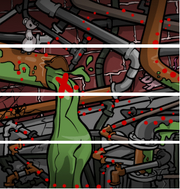 The Sewer Pipes Treasure Map is used to gain access to the Sewer Pipes. It was released in Account Upgrades in November 2009.
How to Get
From Account Upgrades Shop or Monthly Mission Contest
Is there an avatar?
Yes, there is an avatar for completing this map. Go visit the Sewer Pipes page afterwards to claim it.