-
SINDI

Pet Name: Sindi
Pet Kind or Species: Jackrabbit/Hare
Date Introduced: November 2005 Account Upgrades [5]
Description: The Sindi looks like a mad jackrabbit, and strangely it's featured in the Simerian University [6], the retired Marauploads (see below), the Robot Repair Quest [7], the Memory Shop [8], and the Giant Vegetables Shop [9]. The Sindi is a Limited Edition pet and probably under the top ten most wanted pets; and perhaps even the top five! It beat the Fasoro as the 2nd pet to wear the most costumes, with 109 so far. You get Sindi from Account Upgrades; it was last released in January 2018 as part of the Firework Account Upgrade.

Marapets Description: Sindis love digging so always make sure you have a big garden with lots of fresh soil if you choose this pet! Do not let them dig too deeply, though, or they may never come back!

Trivia: Bootleg Sindi is based on the revamp for this pet four days before its final one; it had pointy ears and the inside of Grey Sindi's ears were yellow instead of white.
MARAUPLOADS
Marauploads used to be the Marapets images free hosting service. It used to be available to anyone who had a Marapets account, to host images for their marasites or forum siggies. The service proved to be more than Marapets could handle, and due to so many image hosting services available, it became obsolete.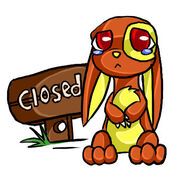 Marauploads wasn't perfect either, the system was more problematic than it was worth. Sometimes it would be down, sometimes it wouldn't work properly. Later, and after about 4 years of existence on the 13th of November of 2009 Ian announced in the News, these words:
"RIP Marauploads - The FREE Marapets Image Uploads Service has been discontinued. Marapets simply outgrew the service, it became too expensive and unsustainable for us to provide a reliable and free image upload service to the number of players we have. We will be making changes to the site soon, allowing you to use images from other sites. We are sorry for the inconvenience caused, but it will give us more revenue and time to spend elsewhere on the site!"
Marauploads Sindi Logo
Sindis around Marada
Sindis featured around the site: University Professor, Giant Vegetables Shopkeeper, Robot Repair, Smuggler, Sindi Slide, Memory Shopkeeper, Lowlyhood Goals and others...


----
---