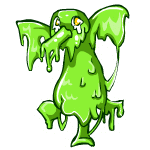 The Snot Newth is an opponent, formerly available along with the Limited Edition Chocolate Pearl, Undead March CD, Midnight DVD, Candy Guide Book, Devil minipet, 750 Dukka Coin, and Rainbow Pizza items that randomly showed up on sale at the Account Upgrades page in February 2009. These all retired in the first week of March, along with the Mordo Potions and the Vortex and Space Fairy Account Upgrades. Snot Newth is a Newth covered in snot, or Slime in the Marapets universe. It throws boogers at you while you hide behind a tissue [1].

Back to Trading Cards...
Community content is available under
CC-BY-SA
unless otherwise noted.