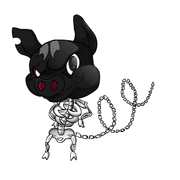 This skeleton Zoink lives alone in Undying Woods. It's really difficult for him to meet any new people and make new friends, because most pets in Undying Woods are dead. So he spends his life in front of his LCD TV, watching DVDs.
Trotter has 30 different missions for you to complete. He will select one of the many DVDs in Marada that he has watched before and you will need to show him that you have watched it with one of your pets... that way you will have something in common with Trotter and he can feel less lonely for once in his life! If you do, you will move on to the next level. If not, you will fail and will have to start again.
Trotter may ask for any DVD up to and including Rarity 30. Find out what items this mission could ask for here.
No.
Prize
No.
Prize
No.
Prize
No.
Prize
1

Skeleton
Potato

2

100mps

3

Trotter's
T-shirt

4

250mps

5

Trotter's
Shield

6

500mps

7

600mps

8

Bone
Book

9

750mps

10

850mps

11

1,000mps

12

Undying
Graveyard

13

1,100mps

14

1,200mps

15

1,300mps

16

1,500mps

17

Trotter's
Stamp

18

2,500mps

19

5,000mps

20

10,000mps

21

Trotter's
Plushie

22

25,000mps

23

30,000mps

24

Trotter's
Sword

25

40,000mps

26

50,000mps

27
28

75,000mps

29

85,000mps

30

Zoink Potion/Enchanted Plushie

and

100,000mps
| | |
| --- | --- |
| | Skeleton avatar gained from completing Mission 27. |
| | Trotter avatar gained from completing Mission 30. |