Description: "Feeling stressed from a hard day? Just plain bored? Then take it out on this small azul, and see if you can get the high score! Using the space bar on your keyboard, you need to whack the mutant Azul out of Biala. The further you hit it, the more points you will get. If you can get enough points you will move to the next level."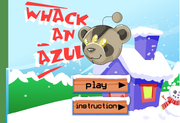 Whack an Azul is a Kass Basher clone, except you don't need to play on the same difficulty over and over again to get the next bat. It was preceded by Whack a Penguin.
MP Ratio: 1MP per 50 points scored
Bonus Prizes: Whack an Azul, Whack an Azul Baguette, Whack an Azul Bat, Whack an Azul Glowing Egg, Whack an Azul Soundtrack. You may randomly win one of these prizes when you play this game.  Game of the Day wins a prize each time!

Back to Flash Games